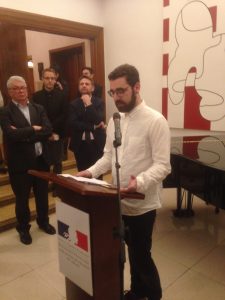 HIS ASSIGNMENT
Why did you decide to do your Service Civique abroad?
I decided to do my Service Civique in Israel in order to explore a country that is not well known in the West. I wanted to prove to myself and my family that this country is not the same as it is portrayed in the media. Besides that, I love learning more about religions (Judaism in this instance) so that also helped me to choose. Finally, the most important reason for me was the mission available there. Because of this, Israel was a country that really drew me from the start.
Did you have any preconceptions before you went? Were they confirmed or did they prove unfounded?
Before I went I was mostly worried about the language barrier which, I would say, was a minor but persistent preconception. In the end, everyone here speaks good English so there wasn't a problem. Besides, I didn't want to go out with expectations and fears. The only thing that was really important to me was my environment in the heart of the organisation. So I left without any real expectations or preconceptions and that's worked out up to today.
---
HIS MISSION
"Now I'm just like part of the team"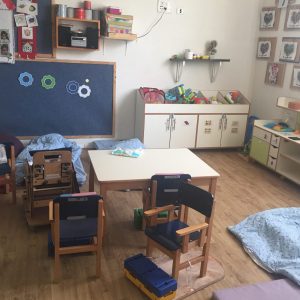 Which organisation is your mission with? What are your tasks?
I work at "CHIMES MICHAL", which, as the name suggests, is a crèche for children with mental difficulties, such as autism, Down's syndrome or delayed development. I work in a class of 10 children, aged 1 to 3. I'm in a team of 5-6 adults who supervise the children when they play. But we are also there to help with their development, through structured exercises or individual interactions. I am responsible for three children each day under the guidance of a therapist. With two of them I play and show them how to react to certain situations and how to interact properly with various objects. With the third I get him onto a "machine" that supports his weight and get him to walk with me to show him the right posture to have.
How did your arrival go? Was it a warm welcome?
The first few days in my organisation were a bit stressful and pretty testing. Mostly, because of the language barrier and because I wasn't used to working with disabled children. But the team has been behind me ever since I arrived. They helped me feel comfortable with the children. Now I'm just like part of the team.
"I spent 6 months in a wheelchair"
Why choose this mission in particular?
I chose this mission because it moved me personally. What happened is I spent 6 months in a wheelchair because of an illness and I had to pass my baccalaureate in the same year. I struggled and I managed to get back on my feet and get my baccalaureate in July 2018. That was the moment when I knew I wanted to be useful. I had also wanted to travel and take a gap year but also to actually "doing something" with it. I've also always liked children, I was an activity leader at a children's holiday camp. To begin with, my first choice was the mission at the Marc Chagall French school in Tel Aviv. However, my application wasn't accepted. So instead VISA-AD suggested two other missions with children. I put myself forward for my current mission and I sincerely think it was the best decision I could have made.
Do you already have plans for when you get back to France?
When I get back I'm debating going away for another year on European Voluntary Service (EVS). Otherwise, I'll start my studies to become a civilian or a military nurse.
---
ANECDOTES…
A couple of months ago, I was sick for a whole week. When I got back, three children leapt straight into my arms as soon as I got in through the door. I was really touched.
On the 10th of January just gone, the French volunteers were invited to the French ambassador to Israel's residence for an evening organised in our honour. A week before the evening, Marie, our French coordinator asked me to do a short speech about my experience. I wrote a speech about the job and the team wanted to read it. The first part of the speech was about my experience of 6 months in a wheelchair. I explained how I felt and how I'd had to adapt. When I had finished reading, one of my colleagues was in tears and another gave me a hug.