Yazen is 24. He arrived in France two years ago, fleeing the war in Syria. Since September 2018, he has been carrying out his Service Civique with the protestant Interchurch Aid in Le Havre. He agreed to answer our questions!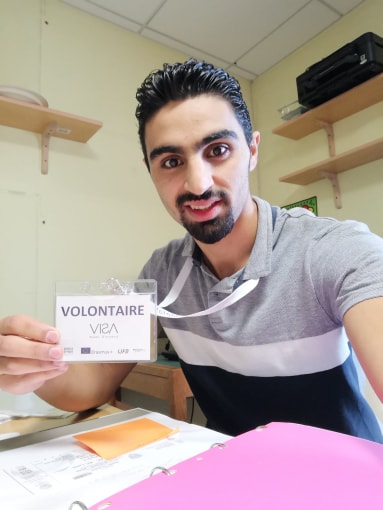 How did you hear about Service Civique? And why did you decide to do it?
The first time I heard of Service Civique was an advert online. I decided to apply because I wanted to do something positive for myself and for others. The programme looked ideal to me. Plus, I'm a Syrian political refugee and I needed to improve my French. I wanted to integrate into society.
You did your Service Civique with the protestant Interchurch Aid in Le Havre. What were your day-to-day tasks?
My tasks were quite varied. Firstly, I helped the volunteers to welcome in food parcels recipients. I offered them tea or coffee and I entertained the children. I also worked in the offices for food parcel registration. Finally, I worked with the volunteers to come up with new projects, like activities for asylum seekers (sports, French classes etc.).
Was it easy for you to integrate into the organisation?
My integration in the protestant Interchurch Aid was nice and easy because the rest of the team were immediately really kind. The first day, everyone gave me a warm welcome. The supervisor quickly introduced me to everyone and to our activities.
What difficulties did you come across during the year? Was speaking French a problem in the beginning?
I didn't have any particular difficulties. Everything was great because I was proud to help a worthy cause. Obviously, I had some language difficulties in the beginning but I learned to speak very quickly and my French improved nicely. Of course, I still need to practise and speaking is the best way to do that.
"I needed help in the past and now it's my turn to help others"
What did the Service Civique bring you?
It's hard to find a job when you're a political refugee. I've lived in France for two years, as I said, and I really wanted to get take part in French society. The Service Civique gave me that chance. Its objective is to help others and I 100% share that value. I needed help in the past and now it's my turn to help others.
What were you doing before you started your Service Civique? And what do you want to do afterwards, now that you've finished?
I was able to start studying in France but I had to stop because of the language barrier. While I was volunteering, I took a FODENO class in le Havre with the Service Civique. In Syria, I studied law for two years. Now I want to continue studying and do a qualification in construction. I am one of the recipients of l'Institut de l'Engagement and they are there to help me with this process.
What did you think of the VISA-AD training sessions and the Simone Veil workshop?
I think the sessions were really great and really useful. I got to meet new people and find out more about citizenship in France, about our rights and what I could do after my year volunteering. It also helped me get better at my mission. Every time I came away a bit better than before.
As for Simone Veil, I think she's a powerful figure and very relevant to the VISA-AD sessions. She was able to make incredibly positive changes despite her difficult past. I think if we're willing to work for it, we can all succeed. Her life is a message for young people, especially for women. You are free and you can do anything.