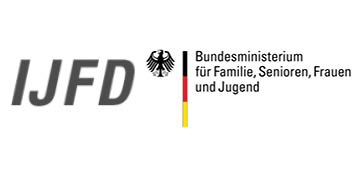 IJFD is a volunteering programme created in Germany in 2011. It enables young Germans to take part in activities abroad in areas such as culture, sports, civil protection and the environment. The IJFD is the opportunity to take a gap year, to explore a new culture and learn useful skills for personal and professional development as well as for social integration.
VISA-AD partners with the IJFD scheme and hosts young Germans wanting to get involved in France. As with all volunteering schemes, the recruitment process looks at the motivation, personality and the ambitions of the individual volunteer.
Who is it for?
All German citizens from 18 to 26.
What is it?
A philanthropic community service mission lasting 8 to 12 months, with a working week of 24 to 35 hours.
When?
Usually from September to June
Where?
In France as part of a VISA-AD member organisation, working in the following areas: socio-medical, education or culture.
How?
First, you must contact our partner, DIJA, in Germany. Young people will be asked to fill out an application form and then invited to take part in an information and orientation weekend in February. VISA-AD will also be there for support and to identify a programme that matches their interests.

After these considerations and after an interview with VISA-AD, your application is presented to the host organisation, who will approve it, or not. Neither the application nor the interview is a trap, the main idea is to get to know the young person and their motivations and to help them in their choice of mission.
What are the benefits?
Recognized legal status
Support throughout the mission (supervisors, training, volunteer sessions, coordinators)
Pocket money of €150 per month
Accommodation and food for the entire period
2 days off per month of mission and 2 days off per week
Full German social security coverage in France (sickness, maternity, workplace accidents)
A training course provided by VISA-AD, done in sessions throughout the volunteer journey (15 days in total), plus two training sessions provided by our partner in
Germany prior to departure and after the return (10 days in total)
Support for the duration of the mission (supervision, training, volunteer sessions)
Cover of travel expenses (between the mission location in France and home in Germany)
Details specific to VISA-AD
95% of young people complete their missions (compared to the 75% national average).
3 training sessions during the mission to complement the informal, on-the-job learning.
A designated coordinator for the duration of the mission to oversee each volunteer.
A Young Person's SNCF Railcard is available to encourage travel.
Meet young people from all walks of life and experience volunteering communally.
Support in your choice of mission for a "tailor-made" mission.
Volunteers are encouraged to design a personal project in the host organisation, which empowers their independent work.
VISA-AD acts as mediator in case of a problem between the host organisation and the volunteer.
Exclusive partnership with the l'Institut de l'engagement. Our goal is to enhance the volunteer experience to make it possible for the volunteers to fulfil their projects at the end of their year.
Testimonials from former volunteers